1981, Ukraine - Army linguist Capt. Zima.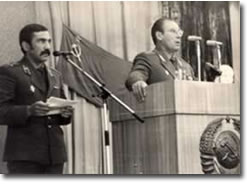 After my relocation to the US in 1990 very little has changed. In Russia I was an English translator. In America I am a Russian translator.
---

All work and no play make Vadim a dull boy ...
"I have personally known Vadim for many years. He provided me with excellent interpretation services during one of my first trips to Moscow. Since then, our organization has utilized his written translation services and found them to be excellent."
Rusloc employees are proud to use only legal software
It benefits everybody.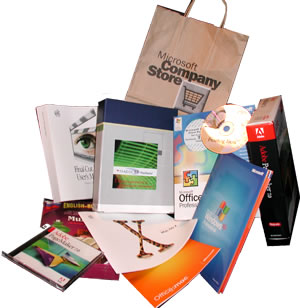 Living 15 minutes away from Redmond, Washington and having friends there has some advantages. Software prices in the Microsoft Company Store are quite amazing. Unfortunately, outsiders are only allowed to buy coffee mugs or T-shirts with the company logo. I wish I had close friends in Cupertino as well...

A really paperless office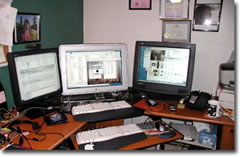 With three monitors connected to two computers I don't really need to print anything out, except for the copies of my translations that need to be signed and notarized. All other jobs are exchanged electronically. Russian and English dictionary (hundreds of them) is becoming obsolete. Electronic and online dictionaries proved to be more useful and convenient.
We are using both platforms - Windows and Macs in the office.